Tomkins Custom Guitars and Basses

Rusty Cochrane

Location: Melbourne Australia
Instrument: Tomkins custom Kimberley 5 string Bass
Main band: Jetty Road

Rusty has been playing bass for over 25 years mainly in Melbourne cover bands (too many to mention), amateur theater, television appearences with other bands & corporate work, but now keeps himself busy with Jetty Road (www.jettyroad.com). His claim to fame was playing in a band that beat Keith Urban on Safeway New Faces in 1983 when he was only 15! Rusty found the warmth of a passive Tomkins bass too much to not have one! Thanks Allan :)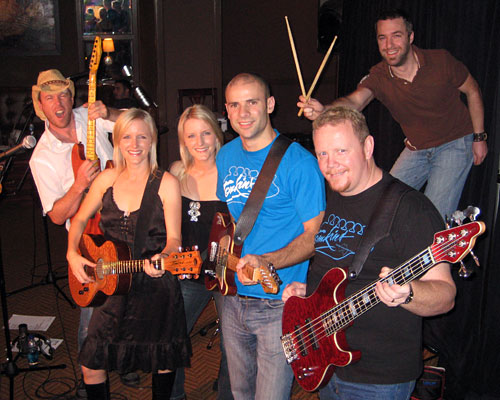 Jetty Road
love Tomkins!
Simon Ross, Lee & Paula Bowman, Julian Sammut, Rusty Cochrane, Ben Cant
Check our LINKS page for more on Rusty Cochrane,
or go back to the PICKERS page to see who else plays a Tomkins.
---
For more details on Tomkins Custom Guitars and Basses . . .
Mobile: 0419 602 333
International Phone +61 419 602 333

E-mail: Tomkins Guitars
A selection of TOMKINS Guitars and Basses
are also available from:
Charlie Turner
Email:
Toll-free 1-866-790-2950
U.S.A.

---
© 1997-2005 Tomkins Custom Guitars and Basses
Webmaster = ShowNet