Tomkins Custom
Guitars and Basses
'The Sydney 2006 Showcase Concert'
Canterbury Country at
Canterbury-Hurlstone Park RSL Club
Thursday 9th November 2006
starring a host of pickers and grinners and singers,
all celebrating the guitars, basses and mandolins of master craftsman
ALLAN TOMKINS. Appearing on the night were JASON LEE, CHARLEY BOYTER,
GARY BROWN, LES SCOTT, SHARNEE FENWICK, MATT BROWN, BRIANA LEE,
JOE TRAVERS with GEORGE GOLLA and GEORGE BRUNO, MAKAYLIE FOODEY,
TALL TIMBRE, ALLAN CASWELL with CATHY CARR, DWAYNE ELIX AND THE ENGINEERS (Dave Cook and Steve Sullivan), NICKI GILLIS,
DUNCAN TOOMBS, GLEN BAIN,
ROB WILSON, BOB HOWE & the HILLBILLY HEAVEN band.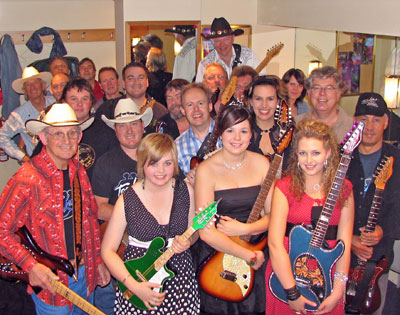 WORLD-RECORD ATTEMPT: Most Tomkins players in one dressing room!

George, Joe and George onstage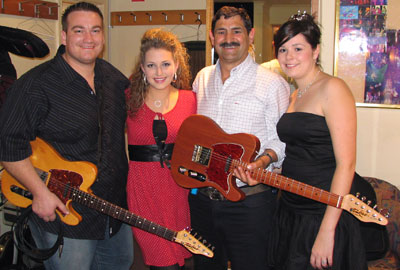 L to R: Duncan, Briana, Charley (with his new guitar) and Sharnee

MAKAYLIE FOODEY with her new mandolin

Concentration: Joe Travers and George Bruno

Jazz legend GEORGE GOLLA; you can play any sort of music on a Tomkins!

Show us your axe!
Watch a short video from the night in Windows Media Player
(Dial-up connections should download
and then play from their hard drive).


The cast finale featuring in order of solos:
Rob Wilson (harp, vocals), Tomi Graso (pedal steel), Allan Tomkins (bass), Dwayne Elix (guitar), Bob Howe (guitar and cameraman walking into his own shot!), Jason Lee (guitar).
---
Check all the Showcase photo pages....
TAMWORTH:
98-99 2000 2001 2002 2003 2004 2005 2006 2007 2008 2009 2010 2011
SYDNEY:
2001 2002 2003 2004 2005 2006 2007 2008 2009 2010
2011 2012 2013 2014 2015 2016 2017 2018 2019
USA: 2007 2008 2011 HEXHAM: 2007
---
For more details on Tomkins Custom Guitars and Basses . . .
Mobile: 0419 602 333
International Phone +61 419 602 333

E-mail: Tomkins Guitars
A selection of TOMKINS Guitars and Basses
are also available from:
Charlie Turner
Email:
Toll-free 1-866-790-2950
U.S.A.

---
© 1997-2007 Tomkins Custom Guitars and Basses
Webmaster = ShowNet