Thursday 11th November 2010
'TOMKINS GUITAR SHOWCASE'
at
Canterbury Country
, Canterbury-Hurlstone Park RSL Club
starring Penelope Sommerville, Brad Rose, Duncan and Andrew Toombs, Christie Lamb,
Sharnee Fenwick, Alby Pool, Melody Pool, Lee Forster, Dwayne Elix & The Engineers (Dave Cook and Steve Sullivan, Tall Timbre, Nicki Gillis, Briana Lee, Chuck Vandenbelt, Darren Carr, Craig Morrison, Jason Lee, Lynda Barnes, Rusty Cochrane, Gary Brown, Bob Howe & The Hillbilly Heaven Band (Allan Tomkins, Tomi Graso, Terry Phillpot)!
This year there were also special fundraising activities to raise money for the Cancer Council in memory of our beloved Barbara Tomkins.

(back) DAVE, ALBY, DWAYNE, SHARNEE, MELODY, RUSTY, CRAIG,
(front) JASON, ANDREW, DARREN, CHUCK

MELODY: "Give me my hat back RUSTY, you're stretching it!"

NICKI and ALLAN present a Tomkins Guitar to lucky prize winner GWYNNE!

SHARNEE, ALLAN, MELODY, BRIANA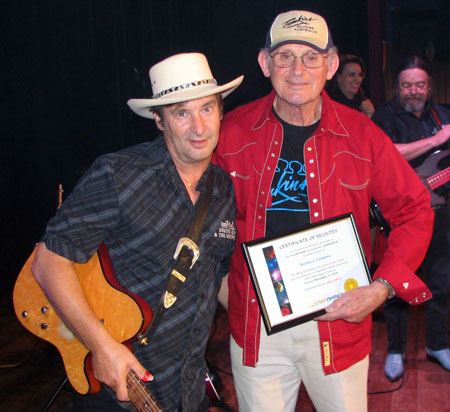 DWAYNE presents ALLAN with a certificate commemorating a star named BARBARA TOMKINS

(front) LEE, ALLAN, GARY, DUNCAN, BRAD

CHRISTIE, DWAYNE, PENELOPE

Birthday boy JASON gets more than he expected as DARREN's stooge!

That's more like it...a cake and a Birthday serenade

LYNDA and JASON slice up the cake..
(photos above by Bob...finale photos below by Nicki)


CRAIG, ALLAN, RUSTY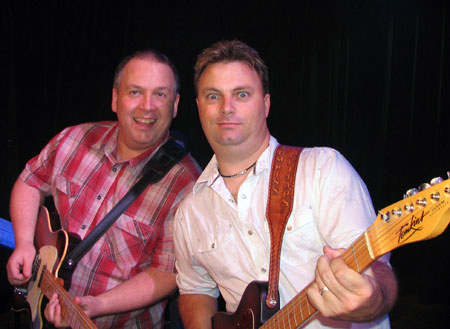 DARREN and BRAD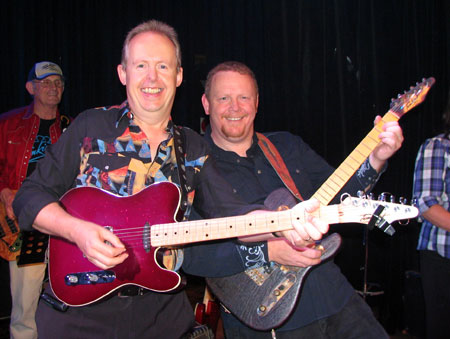 BOB and RUSTY

TOMI on steel

ALBY, MELODY, PENELOPE, CHUCK, DARREN
---
Check all the Showcase photo pages....
TAMWORTH:
98-99 2000 2001 2002 2003 2004 2005 2006 2007 2008 2009 2010 2011
SYDNEY:
2001 2002 2003 2004 2005 2006 2007 2008 2009 2010
2011 2012 2013 2014 2015 2016 2017 2018 2019
USA: 2007 2008 2011 HEXHAM: 2007
---
For more details on Tomkins Custom Guitars and Basses . . .
Mobile: 0419 602 333
International Phone +61 419 602 333

E-mail: Tomkins Guitars
A selection of TOMKINS Guitars and Basses
are also available from:
Charlie Turner
Email:
Toll-free 1-866-790-2950
U.S.A.

---
© 1997-2010 Tomkins Custom Guitars and Basses
Webmaster = ShowNet